Vacation Rental Industry Statistics
4 minute read
The vacation rental industry is extremely lucrative and has been growing at a rapid rate in the last few years, thanks to new integrated apps and software. More and more people are taking advantage of vacation rentals and their variety of benefits.
General Industry Statistics
As of 2018, there were 23,000 vacation rental companies in the U.S. Globally, there were a 115,000.
Airbnb has over 150 million users worldwide.
There have been over half a billion Airbnb stays all-time.
The U.S. accounts for 20% of all vacation rental properties, Europe accounts for 60%, and the rest of the world accounts for 20%.
70% of vacation rental companies like Airbnb and VRBO are small, managing 1-19 units. 20% of all vacation rental companies are medium-sized and manage about 20-99 units, and the remaining 10% are large companies that manage over 100 units.
Vacation rentals are expected to topple the hotel industry by the year 2020.
New third-party tools to streamlining hosting services are becoming more popular. Dynamic pricing, chatbots, and smart home systems are all part of the automation process. New technology is really revolutionizing the global vacation rental market.
Take a look at the growth  and segmentation of users in the United States' vacation rental industry: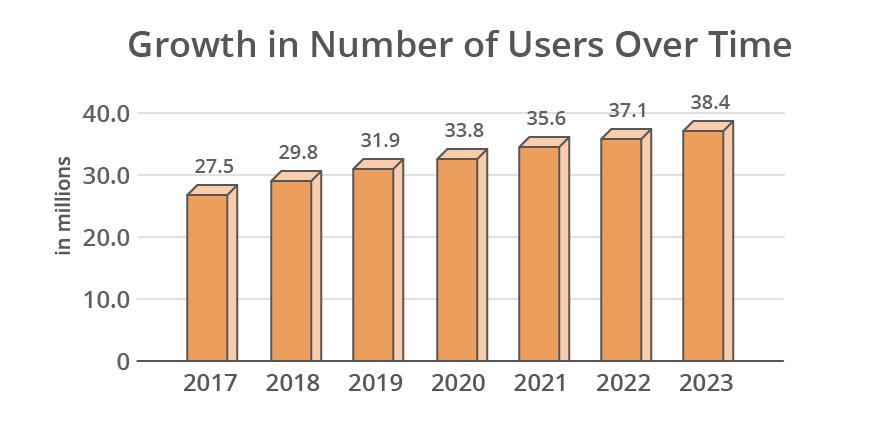 Host Statistics
43% of hosts who lease their primary residence manage all aspects of the rental. 38% of hosts who lease a secondary residence do the same.
The number of second homes in the United States totals 9 million.
44% of those second homes are professionally managed, and 25-35% of them are rented out. Using this data, the report concludes that 25% of all second homes are both used as a rental property and professionally managed.
Also in 2018,  45% of investment buyers and 6% of vacation home buyers bought their properties to generate income through renting.

33% of vacation home buyers purchased in a resort area, 24% purchased in a rural area, and 18% in a small town.
Another 33% of vacation home buyers purchased in a beach area, 21% purchased on a lakefront, and 15% purchased in the country.
34% of investors purchased in a suburb or subdivision, 24% in a small town, and 19% in an urban area or central city.
42% of investors and 39% of vacation home buyers paid all cash for their property purchase.
63% of investors and 52% of vacation buyers bought a detached single-family home.
The median square footage of both investment properties and vacation homes was 1,500.
49% of vacation home buyers and property managers plan to use their property for vacations as a family retreat.
45% of investment property buyers purchased to generate income through renting the property (as opposed to flipping it or seeking price appreciation)
6% of vacation home buyers bought their property to generate income through renting.
24% of individuals with investment properties rented them out in 2017 as short-term rentals.
25% of vacation homeowners rented out their property in 2017 as a short-term rental.
Taxes affect all Americans, including the over 600,000 who earn extra money renting out their homes, condos, apartments, and rooms to short-term guests through Airbnb, FlipKey, HomeAway, TripAdvisor, Craigslist, VRBO, and other online platforms.
Guest Statistics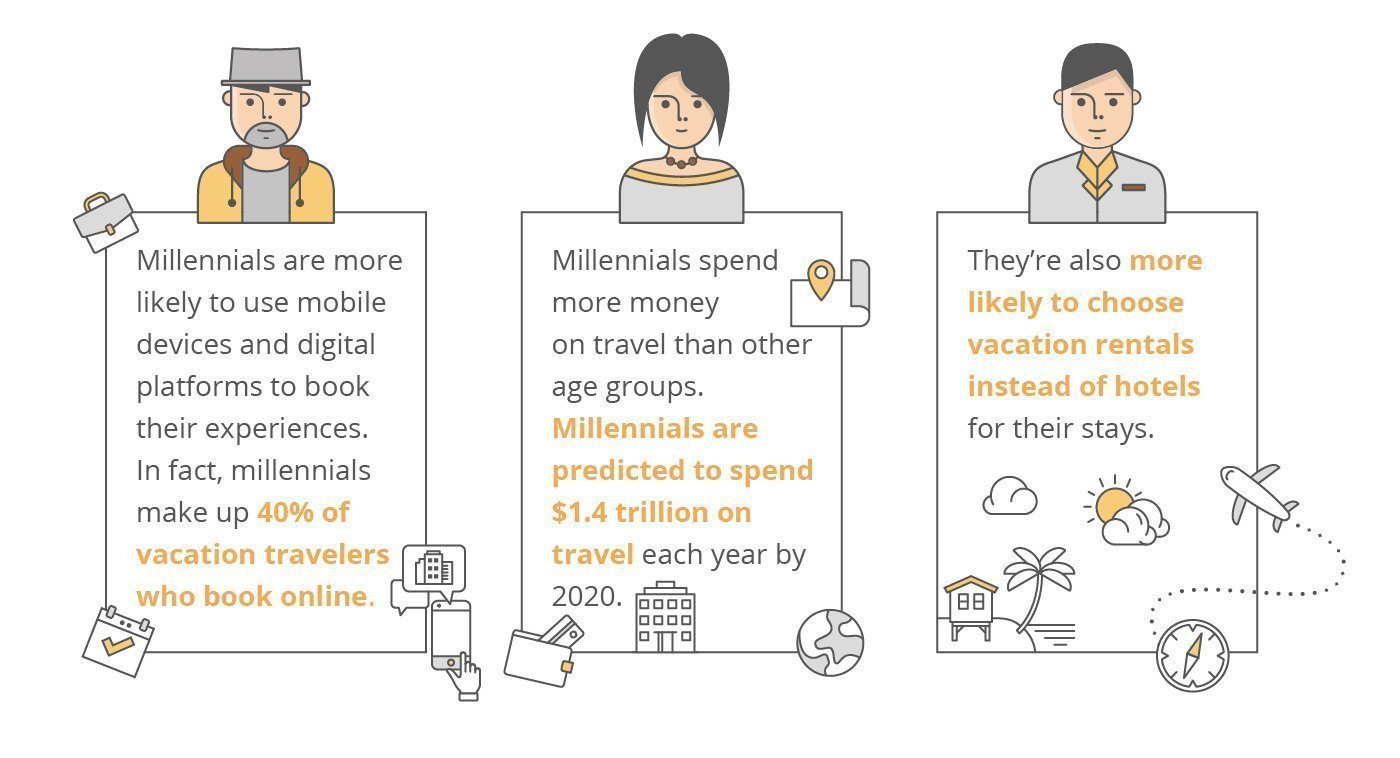 Millennials are predicted to spend $1.4 trillion on travel each year by 2020. Millennials are also more likely to choose short-term rentals instead of hotels for their stays.
Millennials have expensive tastes—12% plan to stay in a villa/estate in the next year vs. only 6% of Boomers and 9% of Gen Xers.
71% of travelers with children said access to cooking their own meals was a major reason they chose a vacation rental.
Millennials make up 40% of leisure travelers who book online.
Despite millennials being the main users of vacation rentals, Gen Z is quickly catching up. With the oldest members of this age group being 24, Gen Z is redefining modern travel:

 Gen Z is most likely to travel with friends (35%), beating out traveling with immediate family or opting to go at it alone.
Gen Z spends their time away in cities (more than 60% of the time), far surpassing rural and suburban destinations.
81% of Gen Z travelers have already stayed in a vacation home, cabin or condo at some point in their lives, meaning the industry is expected to see even more growth as this age group grows with it.

Holiday lets are now the fastest-growing sector of UK tourism.
Transactional value of the European short-term rental market grew more than 220% between the first quarters of 2015 and 2016.
Currently, the growth rate of urban accommodations is changing the mix of destinations for short-term rentals. Cities are quickly becoming hotspots for renters across the world.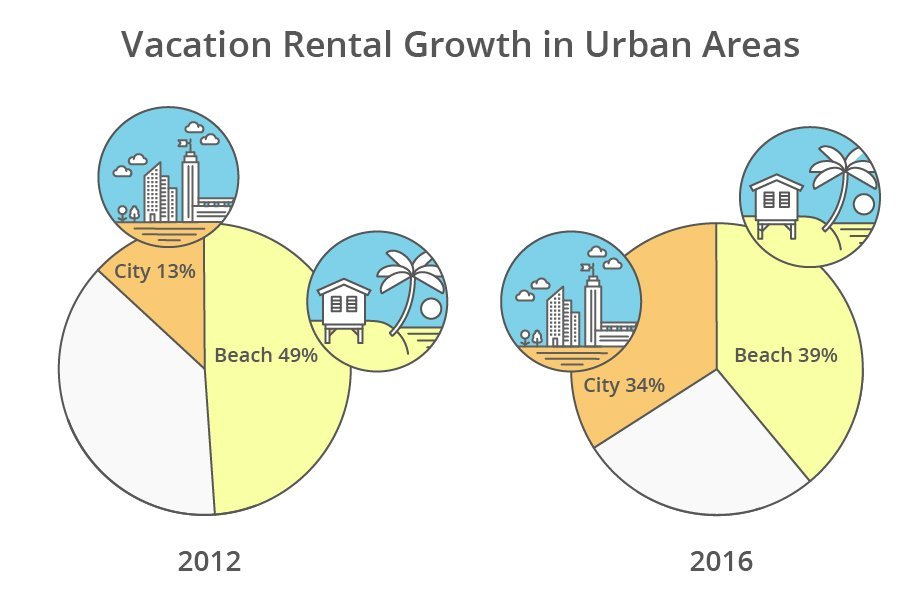 U.S. travel to overseas markets totaled 35.1 million — up by seven percent. The popularity of vacation rentals is sky-rocketing.
In the first four months of 2016 alone, vacation rental startups attracted nearly $100 million in venture capital funding, concentrated in the US and Europe
1 in 4 Americans report engaging with short-term rental platforms (23%), up 277% from 6%
Travelers will end up spending the most if they book a short-term rental in a city that's considered a seasonal getaway.
Revenue in the vacation rentals segment amounts to $10,620m in 2017
The average revenue per user (ARPU) currently amounts to $659.01
The user penetration rate (percentage of a target market that consumes a product or service) is at 6.2% in 2017 and is expected to hit 7.4% in 2021
Nearly 1 in 3 U.S. travelers used private accommodation in 2015, up from less than 1 in 10 in 2010.
According to HomeAway, those who traveled with a mixed (friends and family) group remembered their trips at least 20% better.
Destination Statistics
The beach is best for most travelers, with 74% of respondents preferring to spend their vacations on the coast
83% simply prefer to be near water—whether it is the ocean or a lake.
51% and 35% prefer mountainous and city vacations, respectively.
Millennials have expensive tastes—12% plan to stay in a villa/estate in the next year vs. only 6% of Boomers and 9% of Gen Xers.
71% of travelers with children said access to cooking their own meals was a major reason they chose a vacation rental.
The 5 most expensive cities for vacation rentals in the U.S. are:

East Hampton, NY
Truckee, CA
Tahoe City, CA
Keystone, CO
Annapolis, MD

HomeAway also reported that mountain vacations top the list for most memorable vacations—they're up to 12% more memorable than other destinations.
30%  percent of vacation property owners and 32 percent of investment property showed interest in renting their homes as short-term rentals last year.
Travel Planning Statistics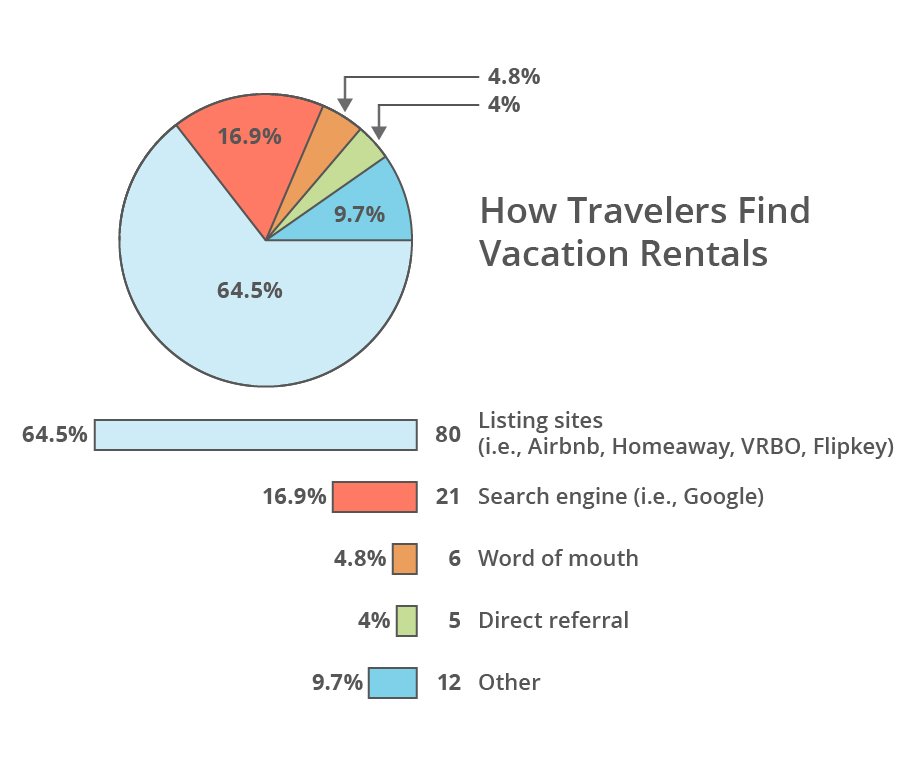 53% of all travel is being booked online. Technology is changing the way people think about traveling and lodging. It's also changing the way people are approaching property management.
67% of travelers think it's easier to book on a brand website rather than a third-party website.
⅔ of travelers agree that it's cheaper to book on a brand website as well.
50% of people aged between 35 and 44 prefer to reserve through.
7 out of 10 tourists and visitors pick up brochures at their travel destination.
69% of travelers find brochures at a display stand; 68% find the brochure information online.
95% of visitors had their travel plans influenced by brochure information.
83% plan to visit a business or attraction highlighted in a brochure, map, or guide.
78% of travelers consider altering their travel plans as a result of a brochure.
53% of travelers use brochures to plan their trip before they arrive.
59% of people review websites, online forums, etc. before going on a trip.
31% turn to family and friends for recommendations when planning a vacation.
25% of people use a travel agency website.
Travelers will spend about 59 seconds navigating your website and clicking through your pictures.
21% look in a magazine or newspaper.
12% visit a travel agent.
5% refer to social media.
31.6% of homeowners said they spent four or more hours creating their listing
77.9% of homeowners admit that the only way they welcome guests to their property is with an email.
63% of homeowners reply to travelers within 60 minutes of receiving their inquiry.
Average nightly rates in popular vacation destinations range from $186 per night to $978 per night (for a family-sized rental)
Wyoming is home to the most expensive vacation rentals around the 4th of July
Around Independence Day, Nantucket is more expensive than all other popular summer tourist destinations, with $978 dollars required per night; close behind are The Hamptons, Montauk, Long Island, Half Moon Bay, Newport Beach, Santa Barbara, San Diego, Palm Springs, and Lake Tahoe.
You can save up to 70% depending on what week in the summer you travel.
Trends to Watch
The market for vacation rentals is expanding fast — and with the rise of IoT across the world, more and more people are turning to innovative options in all areas of their lives.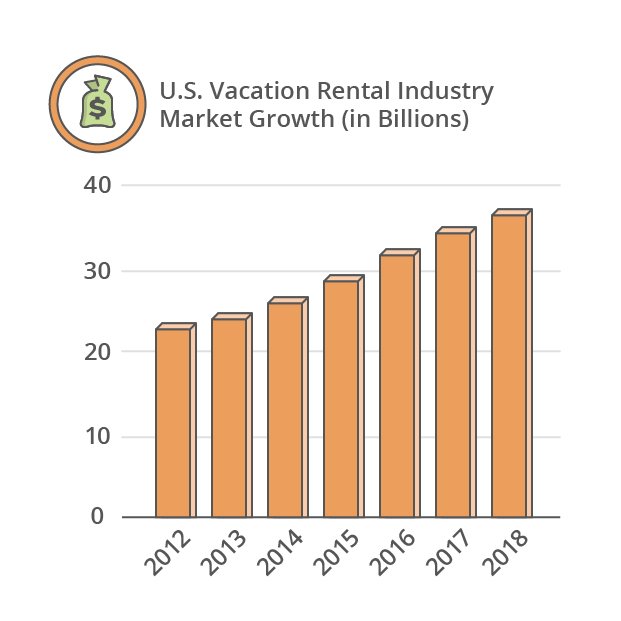 There are 3 emerging vacation rental industry trends to look out for in the  in the U.S.:
Big brands are dying out
Virtual reality marketing is becoming more popular, so expect to see it emerging in rental marketing
More new customers are coming from places internationally
For businesses, these trends are becoming increasingly important:
Rent demand
Population shift
Market opportunities
Technology disruption
Sources